We are offering RM15 discounts with every minimum purchase of RM80 for every cakes.
COUPON CODE: promo15
The promotion has extended to 28 April.
HOW TO USE COUPON & ORDER:
First, you need to Register New Account to use Coupon and get Reward Points.
Click MY ACCOUNT on Top Menu. You may LOGIN with FACEBOOK, or REGISTER new account. Remember to fill in your Birthday to get more Reward Points on your Birthday.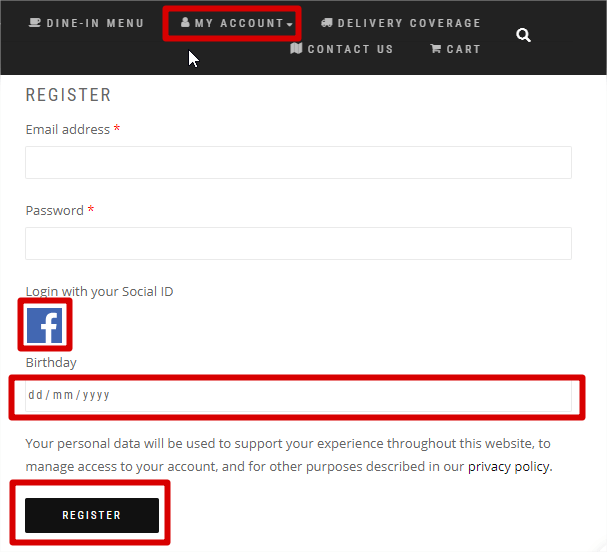 If you are using MOBILE VERSION, click
and click MY ACCOUNT
After you have Login and choose the cake you want, go to CART. Enter your Coupon Code: "promo15" and click APPLY COUPON
Scoll down to CART TOTALS and you will see the total will be deduct with RM5 discount. Click PROCEED TO CHECKOUT if you have confirm.
In CHECKOUT Page, you need to choose SHIPPING TYPE, DELIVERY LOCATION, DELIVERY DATE, & DELIVERY TIME. If you choose Pickup at our JB Outlet, there will be extra RM20 off.
Fill in all your Billing Details. If your order need to ship to other address, click Shipping Details and fill in.
After checked all your order details, choose your Payment Method.
Choose "senangPay" if you would like to pay using credit card or debit card
Choose "Direct Bank Transfer" if you would like to make Bank In Transfer by your own. Please send us the Bank In Receipt and Depositor Name to Whatsapp: +60167665613 or Email: morihanapastry@gmail.com to verify your payment.
Once your order has done, you will receive an email regarding to your Order Number and Receipt details.
If you have any issue on ordering, please do Whatsapp us: +60167665613. We will try our very best to assist you.
Once again Thank you so much on choosing MORIHANA PASTRY 😊
Sidebar